North East Fire and Ambulance Services
Ambulance Album 2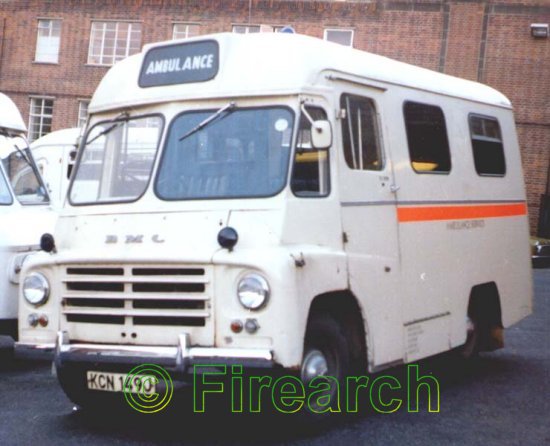 The later fleet of Gateshead Borough Ambulance Service comprised entirely of these Morris/BMC LD ambulances with locally built Appleyard bodies. There were sitting case and emergency versions all featuring automatic transmission. This one, dating from 1969 was the penultimate one before the service started buying Ford Transits with Wadhams bodywork. It had just been transferred to the newly formed Northumbria Ambulance Service, hence the anonymous livery.
TBB426M. The second last ambulance to be ordered by Newcastle City Ambulance Service was this Bedford J1 vehicle with Hanlon bodywork and was identical to vehicles used by Sunderland Ambulance Service. It was the first Bedford in the city for over twenty years and was a very powerful machine. It ended its life as a towing vehicle at Springwell in Gateshead.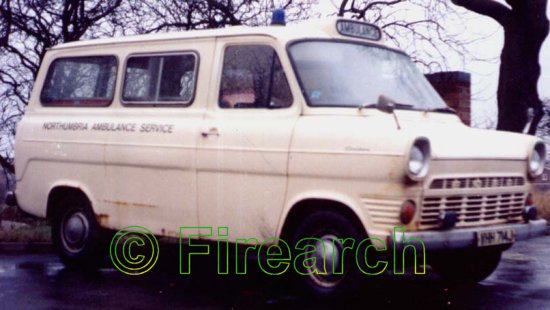 VHH714J The St Johns Ambulance and British Red Cross organisations were contracted to Northumberland County Council to provide ambulance resources in the rural areas of the county on an agency basis. This 1971 Ford Transit was a former St. Johns Haltwhistle vehicle that was inherited by Northumbria in 1974.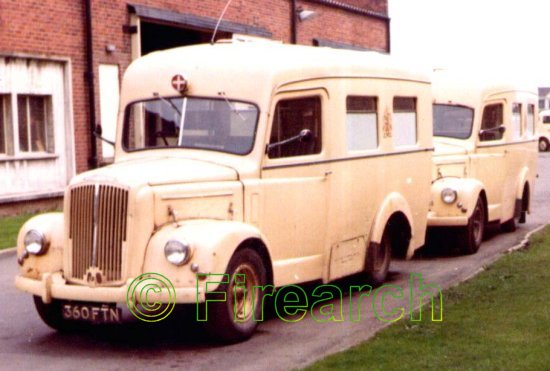 Newcastle's East End Depot showing a brace of Morris Commercial ambulances. There was a large fleet of Wadhams, Lomas and Appleyard versions of these vehicles in the Newcastle fleet. One of them formed the prototype of the cities revolutionary mobile intensive care unit for transporting coronary cases to the Royal Victoria Infirmary.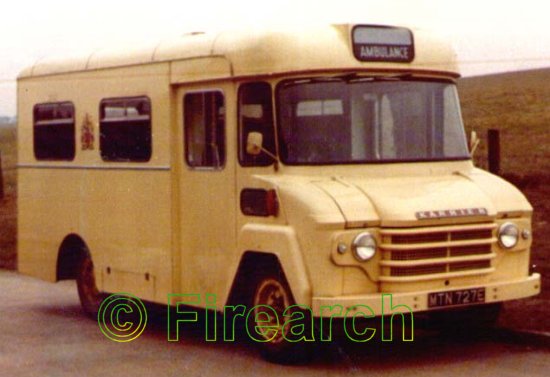 The later years of Newcastle's ambulance service accident and dual purpose fleet was based on ambulances mounted on Commer Walkthru and Karrier chassis. This one is typical of those vehicles. They were bodied by local coach builder, Minories of Benton, right next door to the East End ambulance depot. The example illustrated, MTN727E dates from 1967.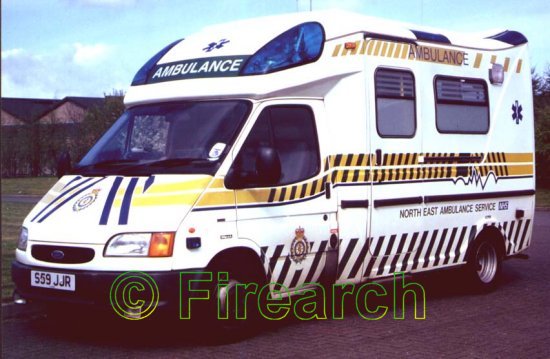 S59JJR was one of four Wilker 'Lunar' ambulances delivered to Durham County Ambulance Service and transferred to the newly formed North East Ambulance Service in April 1999. They are very futuristic vehicles, enhanced by Durhams attractive 'zip striping'livery.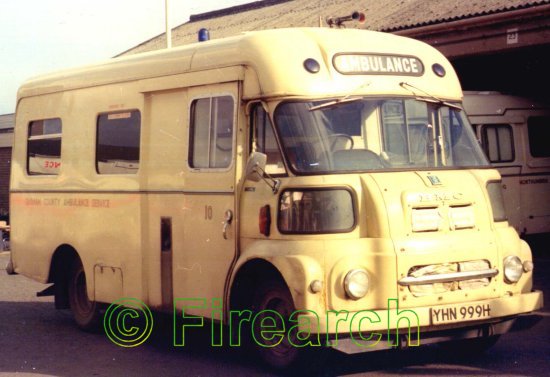 This large ambulance was inherited by Durham County Ambulance Service in 1974 when that service merged with Darlington Ambulance Service. Formerly a Fire Brigade operated service all Darlington fire engines and ambulances were characterised by '999' registrations and YHN999J is no exception. It is a BMC FG model with Lomas bodywork and was caught at Durhams Headquarters in 1977.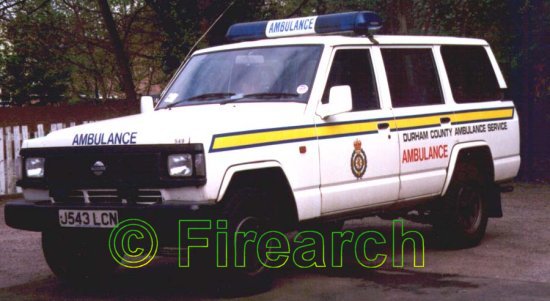 Unique in the north east, this Nissan Patrol 4x4 ambulance was fitted with an adapted wheeled stretcher trolley for accommodating a recumbent patient. Dating from 1992 it was bought to replace the Range Rover and was in turn replaced by a second hand Land Rover from the Isle of Man. When pictured at Chester-le-Street in 1999 it had been relegated to a general runabout and was sold the following year.


Thanks for visiting North East Fire and Ambulance Services
Last modified on 30 December 2001