North East Fire and Ambulance Services
Ambulance Album 1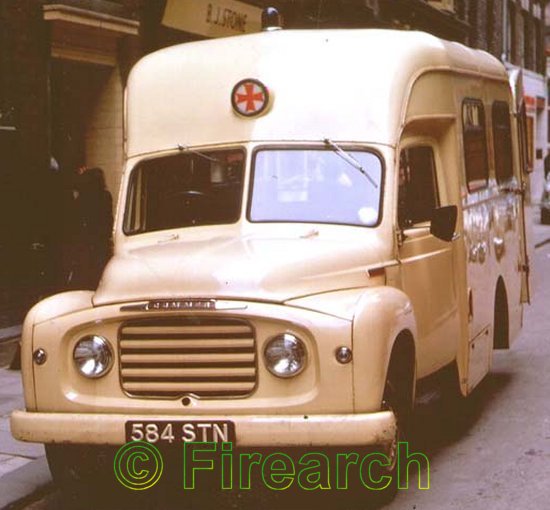 584STN A 1960 Commer Superpoise ambulance from Newcastle upon Tyne pictured at a case at Northumberland Road in the City Centre. These ambulances were bodied by Modern Coachcraft of Newcastle and carried no resuscitation or life saving equipment what-so-ever apart from a rudimentary first aid kit.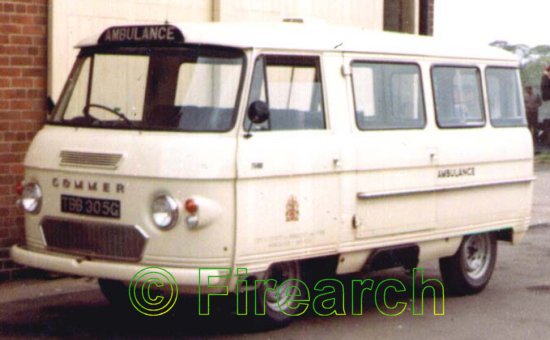 The routine walking case patients of Newcastle were transported by a fleet of these diminutive Commer mini bus vehicles. This example is pictured during bait time at the East End station on Benton Road. These vehicles were also devoid of any equipment and there was not much indication that they were in fact ambulances.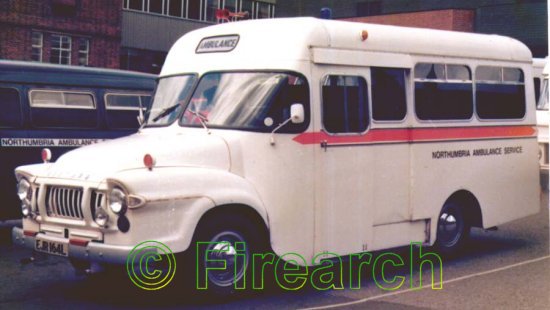 EJR160L. The sole example of its type in the north east. It is a Reeves bodied ambulance mounted on a Bedford J1 chassis and was a former demonstrator, acquired in 1972. Based on a design of the Chief Ambulance Officer of Oxford this ambulance operated for all of its service from Broomhill ambulance station.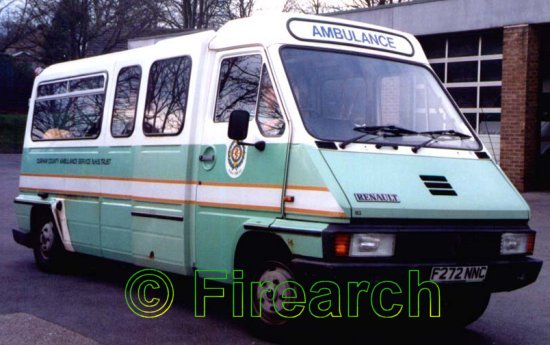 F272NNC Four of these sitting ambulances were acquired by Durham County from Merseyside Ambulance Service and oddly enough were finished in a livery that was similar to some earlier Durham vehicles that were subsequently repainted. This one was pictured at Consett in 1999 and is demonstrating, by accident, the lowering suspension capabilities of the vehicle.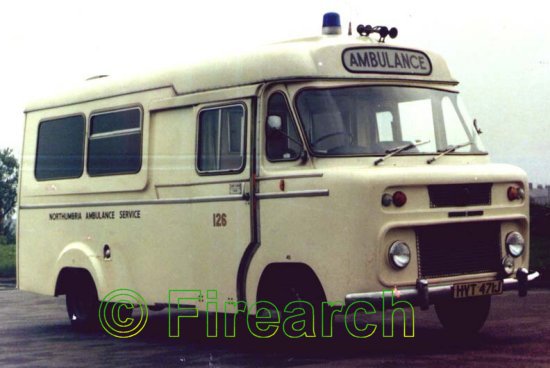 HVT471J After the delivery of large numbers of Wadhams bodied LD ambulances Durham stayed loyal to Wadhams and eventually replaced the entire fleet with ambulances based on the Leyland EA chassis. Again they came in two versions, accident and emergency and sitting cases types. These were the first in the area to feature wheeled stretcher trolleys and front mounted low level blinker lights.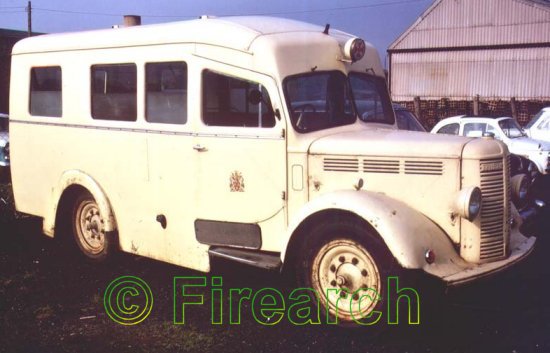 One of the first post war ambulances to be ordered by Newcastle upon Tyne Ambulance Service. This is a 1951 Bedford M dual purpose ambulance and is pictured at the East End station in 1967, having given some fifteen years of loyal service to the city.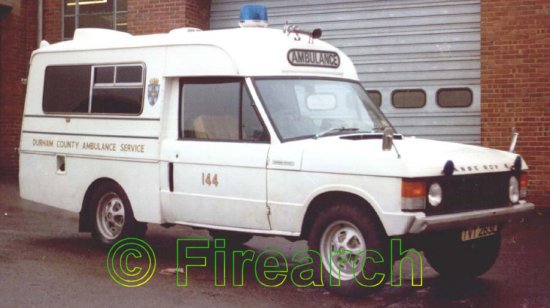 There was a requirement in Durham County for a four wheeled drive ambulance to be based at the services St. Johnís Chapel depot and this smart Range Rover/Wadhams vehicle was bought in 1972 for that purpose, replacing an Austin Gypsy ambulance. It was the sole example in the county and is pictured at the Central Repair Depot, Framwellgate Moor in 1975. (DCAS L4V)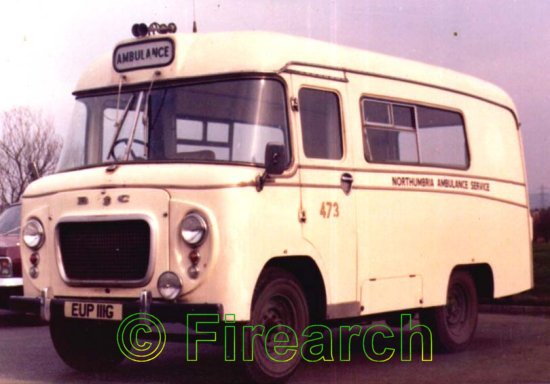 EUP110G At one time almost the entire fleet of Durham County Ambulance Service consisted of ambulances based on the Austin/Morris LD chassis with Wadhams bodywork and consisted of a combination of accident and emergency ambulances and sitting case ambulances. This is one of the sitting case ambulances although it had facilities to carry a stretcher case when required. Although fitted with two tone horns none of these vehicles featured blue lights. This one dates from 1969 andd is pictured after being transferred to Northumbria in 1974.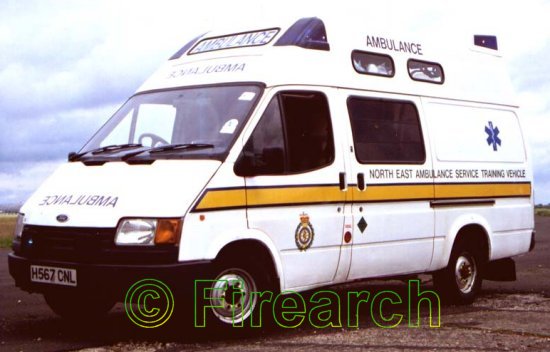 H657CNL. A 1991 Ford Transit Customline ambulance, formerly delivered to Durham County Ambulance Service. When this photograph was taken in 2000 it was serving out the remainder of its life in the useful and necessary role of driver training vehicle.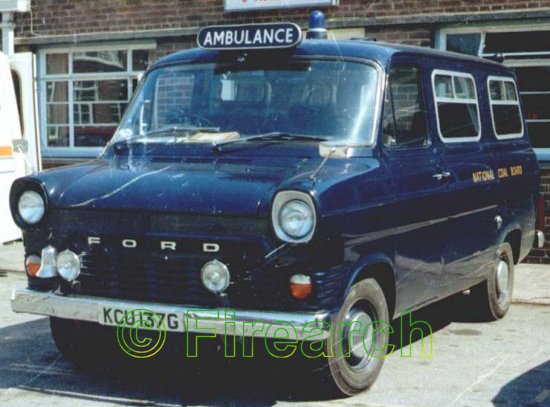 KCU137G Dating from 1969 this Ford Transit crew bus conversion was one of many Coal Board ambulances that operated in the County of Durham, a throw back to the pre war days of colliery welfare ambulances. This example was pictured at Sunderlandís Eye Infirmary in 1977.


Thanks for visiting North East Fire and Ambulance Services
Last modified on 30 December 2001