North East Fire and Ambulance Services
Ambulance Album 3







An exercise at Manors Railway Station in 2000 revealed three generations of Northumbria ambulances. Illustrated is one of the Renault Concepts and both classes of Chevrolets, an early G30 model and one of the later Suburbans. The two types of liveries are also amply illustrated.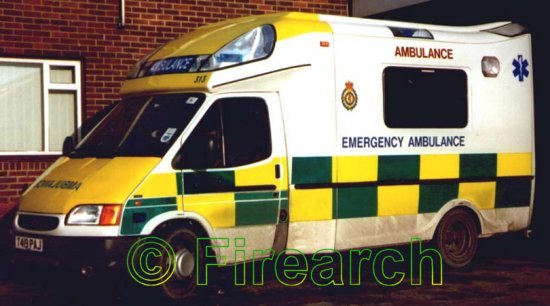 Almost twenty five years after the Bedford was taken the Tees-side/Cleveland ambulances were in a not much better state. This new Ford Transit Wilker 'Lunar' ambulance was pictured at Redcar in 2000 and is clearly in need of a good wash.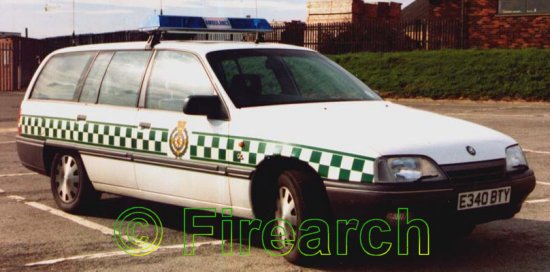 E340BTY a sole Vauxhall Carlton was bought in 1988 for use by the services Operational Duty Officers and replaced two Ford Sierra Estate cars. It is pictured in 1989 at the Scotswood Road headquarters.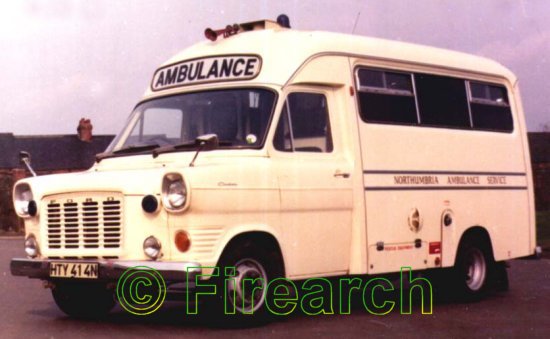 This six cylinder Ford Transit ambulance with Hanlon bodywork was one of the fastest ambulances to see service with Northumbria. Together with some examples on Bedford CF chassis and others with Wadhams bodywork these were the first types of ambulances to be ordered by Northumbria. They could carry nine sitting patients or two stretchers or a combination of both.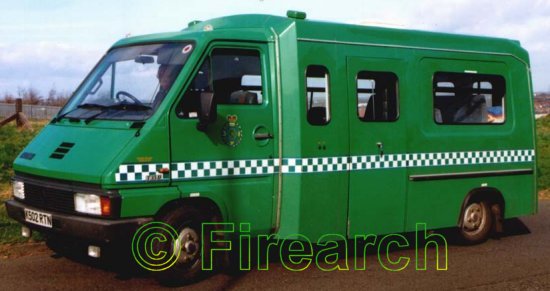 A Patient Transport Version (PTS) ambulance was also developed and Northumbria acquired several of these. These vehicles retained the automatic door opening facility. K502RTN from Gateshead is one such example.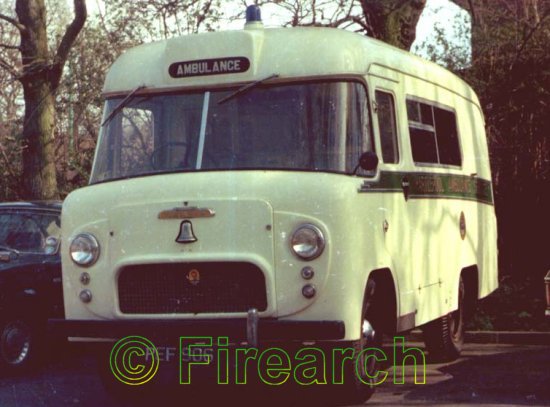 PEF906. Hartlepool Ambulance Service, pictured in 1976 on the day it was sold out of service to a preservationist. The buyer managed to persuade the service to retain the original livery. This vehicle was a diesel powered version of Wadhams popular Austin/Morris LD5 based ambulance. It was originally painted in the Boroughs dark green livery.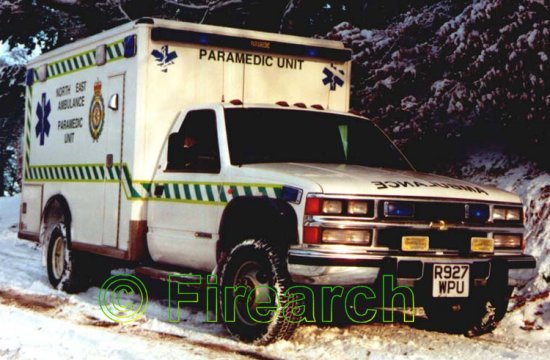 R927WPU One of Northumbria's turbo charged Chevrolet Suburban/Wheeled Coach paramedic units. This is an example from the first of two batches and was assigned to Morpeth. The four wheel drive capability proved useful in December 2000 when this picture was taken.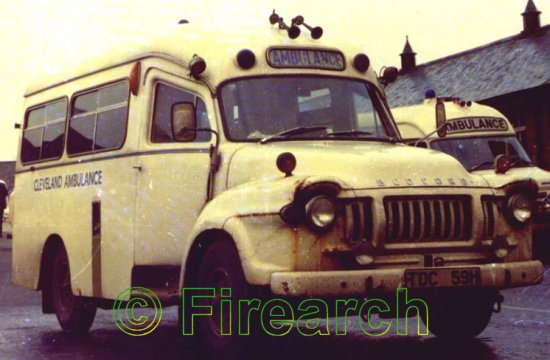 TDC59H. A rust and white Bedford J1/Lomas ambulance of Cleveland Ambulance, delivered to Tees-side in 1970. It is pictured at Newcastle's Royal Victoria Infirmary in 1977.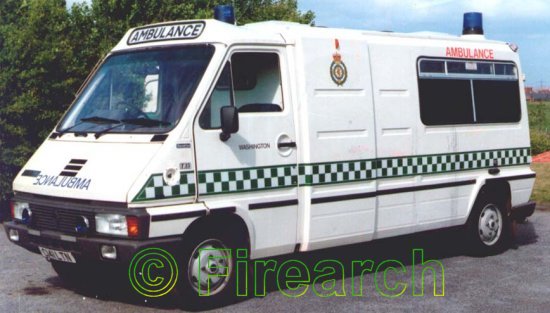 C141LTN This Renault T35 ambulance dating from 1986 was one of the first batches to be delivered to Northumbria. These vehicles featured bodywork by Steedrive and had fuel injection petrol engines later changed to turbocharged engines. They were the first ambulances for many years to feature a solid partition between the cab and the saloon. They formed the mainstay of the fleet until the Chevrolets.The last A&E Renault being delivered in 1992.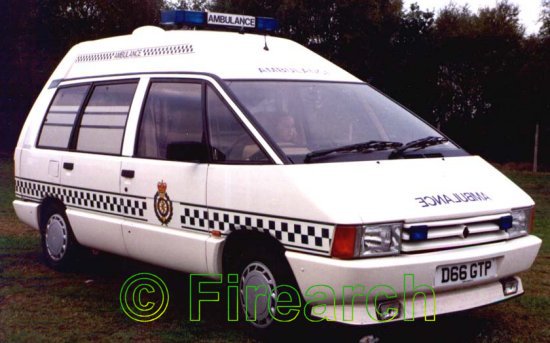 D66GTP a 1987 Renault Espace ambulance was acquired by Northumbria direct from the Harrogate Ambex exhibition. It was acquired for long distance patient transfers and later passed to the services Communicare division before being sold to the St. John's organisation.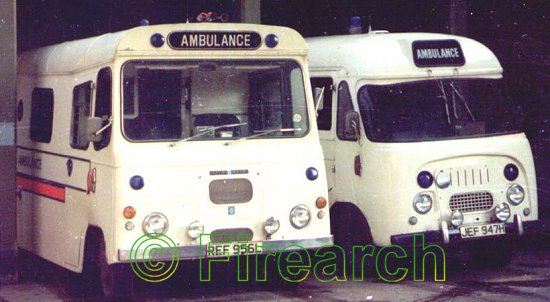 Hartepool Ambulance Depot in 1976 showing a BMC LD series Appleyard 'Statesman' ambulance and a newer Leyland EA /Reeves vehicle. The service had recently merged becoming part of Cleveland A.H.A.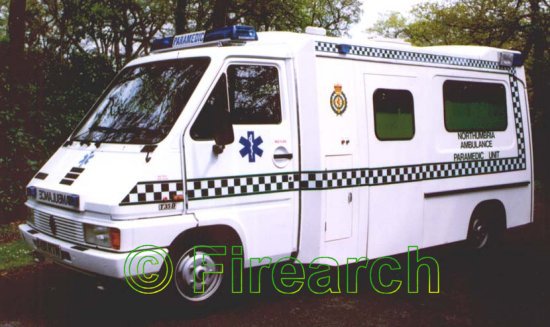 K496RTN a Renault T35/Wadhams 'Northumbrian Concept' designed in conjunction with Northumbria A.S. These vehicles were the first in the fleet to feature 'easy load' stretchers the design of the interior became the basis for the Chevrolets. Air operated doors caused many problems and were later converted to conventional manual opening. Thirteen of these were bought.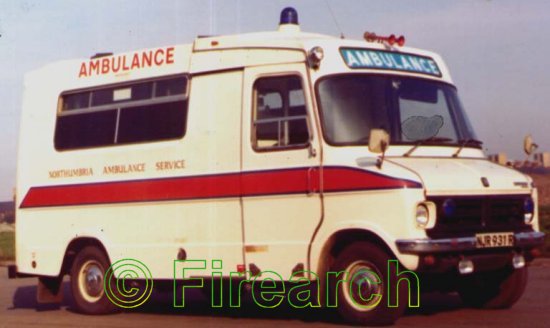 From 1976 until the delivery of the Renaults in 1986 almost the entire fleet of Northumbria A.S. consisted of Hanlon 'Hi-Line' ambulances on both Bedford CF and Ford Transit chassis. Noel Hanlon of Ireland was the first manufacturer to dress up the vehicles with the red and blue reflective side striping and they were a common sight in almost every part of the country. NJR931R featured here was the third such Northumbria example.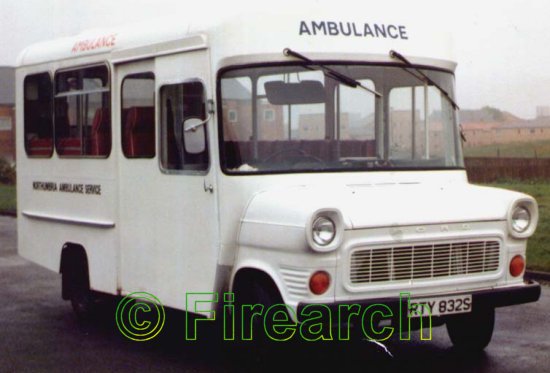 RTY832S A Ford Transit with Dormobile coachwork. This one, dating from 1977 was assigned to a geriatric day unit and was fitted with a tail lift to facilitate the loading of wheelchair patients.


Thanks for visiting North East Fire and Ambulance Services
Last modified on 30 December 2001