North East Fire and Ambulance Services
Fire Album 2 (Northumberland)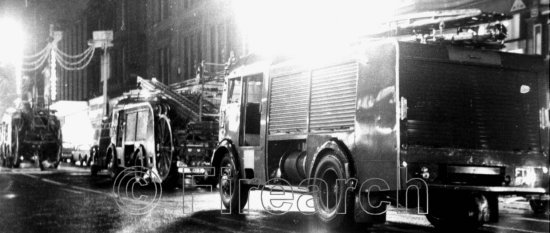 Callers Department Store fire, Northumberland Street, Newcastle in December 1969. Northumberland County Fire Brigade sent six engines to this fire. Lined up here are machines from Wallsend, and Gosforth. This incident was the biggest blaze in the brigades twenty-six year history.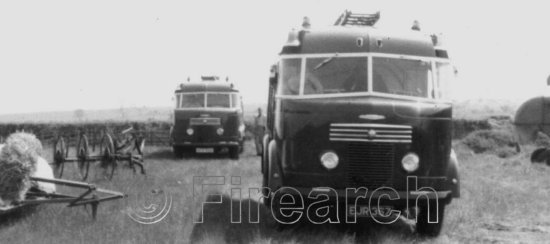 Mitford, Northumberland in 1968. Water tenders from Morpeth and Newburn clear up after an all night hay stack fire. The Morpeth appliance, ETY325, dating from 1951 was the first of a long line of Miles bodied appliances to be ordered by the brigade.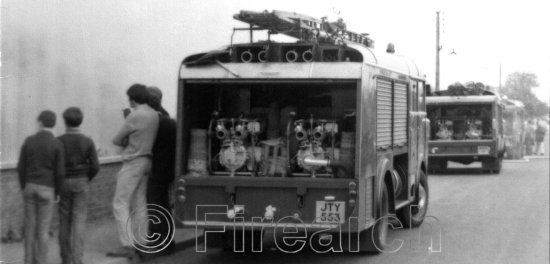 JTY553 One of ten Rolls Royce powered Dennis water tenders of Northumberland who also acquired the prototype. Delivered in 1955 this machine operated from Amble for all of its service and is seen after the rear bodywork had been converted to enclose two featherwight pumps in a rear full width locker. The location is Widdrington Social Club.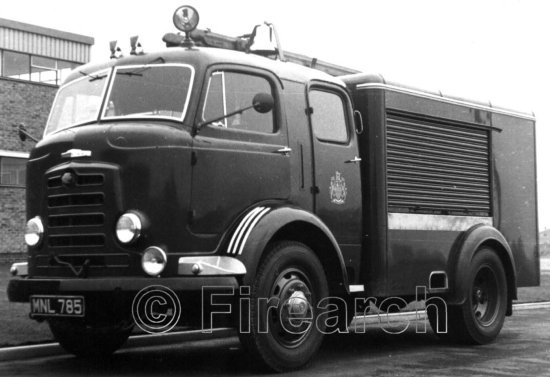 MNL785 a Karrier/Miles Hose layer/personnel carrier at Morpeth during the new headquarters opening ceremony. There were six of these delivered to Northumberland from 1956 for the fire risks at Kielder Forrest. All were later converted to emergency tenders and this example was converted again to a decontamination unit.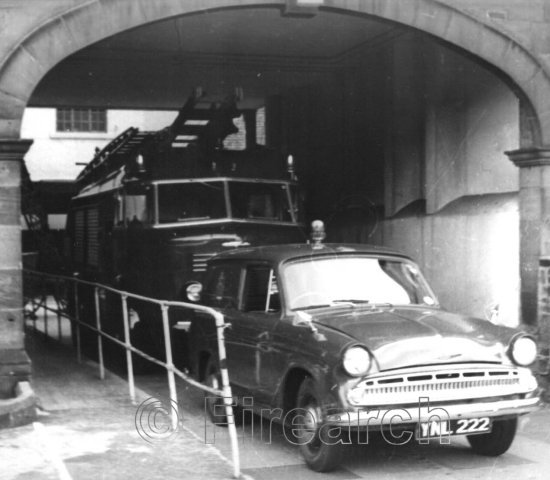 Gosforth fire station in 1968. The station officers Commer Cob utility van and the pump escape have been placed at the top of the archway whilst contractors repair the roof of the council chambers.
The old wheeled escape, just visible behind the pump escape was the original Gosforth Urban District Councils Shand Mason Horse Drawn Curricle escape dating from 1905, still in use by the council workmen in this 1968 photograph.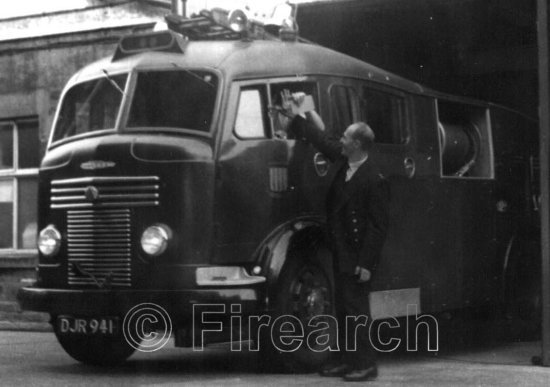 1950 DJR941 A Commer/Carmichael type A water tender was the sole example delivered to Northumberland. Originally assigned to Berwick it is pictured when on reserve duties at Gosforth in 1969. At this time it was still trundling a trailer pump behind it.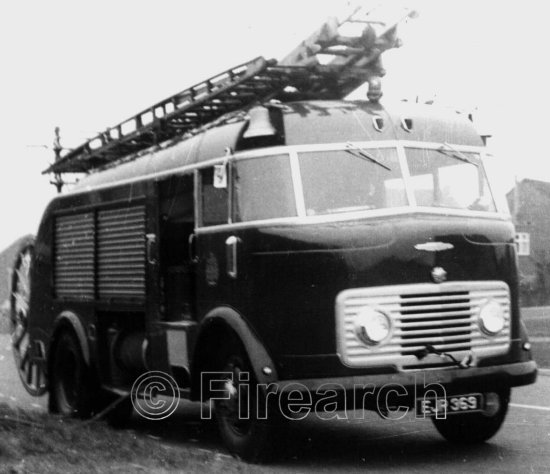 EJR369 dating from 1952 was the prototype Commer/Miles pump escape or multi purpose pump as it was originally designated. Delivered to Northumberlands Wallsend station it is pictured way out of its area, at a Newcastle fire at Fawdon Lane when on standby at Gosforth. The front is not original having been replaced following a road accident at Rosehill Bank, Wallsend in 1968.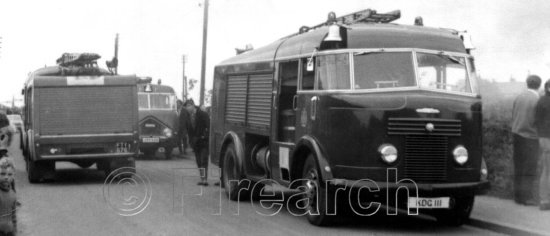 Miles away from home. This Commer/Miles water tender from Alnwick was acquired from Gloucestershire Fire Service to replace a similar appliance that was written off in a road accident. It is seen shortly after arrival at Widdrington Social Club near Ashington, Northumberland in 1968.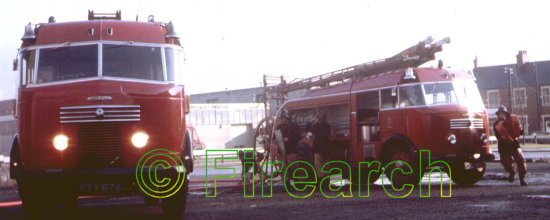 Northumberland County Fire Brigades Wallsend water tender and Gosforths pump escape at an upholstery manufacturers fire at Planet Place, Killingworth in 1968. Pumps had just been made up to four during this very smoky Sunday afternoon fire and more hose lines were in the process of being laid out as this photograph illustrates.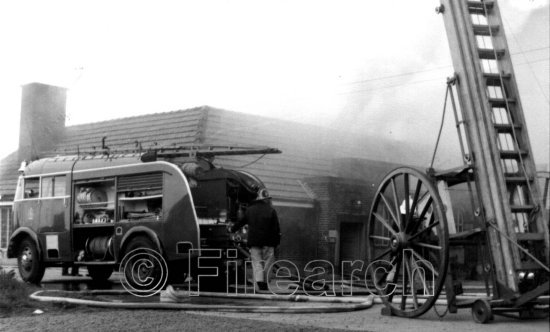 HNL398, Morpeth's pump escape at Widdrington Social Club. The second appliance in attendance.
The crew have slipped the escape to enable better access to the pump controls. Six pumps were eventually required to bring this blaze under control.


Thanks for visiting North East Fire and Ambulance Services
Last modified on 30 December 2001